I find this by far the best advice for any AI company project.
An AI Design Sprint* helps in achieving this.
As with any digital change, what really counts is the added value we create for the user or for the customer.
It's not about the tech that we use!
Companies from Amazon to Netflix have built organizational cultures around customer orientation. Their trick is simple: They find out, what services their customers value most. In order to offer these services quickly and cheaply, they use AI where it makes sense and where it offers a clear advantage.
It's not AI that is the key to our successful future, key are our satisfied users and customers. The competitive advantage lies first in an understanding of the needs and wishes of the customers. Once you understand their world, then it's about a clever implementation that makes this advantage quick, easy and cost-effective.
I think there are two main reasons, why we have too much respect or fear of AI:
First, there is this question: Do you trust "self-learning tech"?
I find it a bit spooky when I imagine the "reign of machines". And unfortunately, there are plenty of examples of "AI for Bad Stuff" in real life. I am particularly concerned with the Chinese Social Credit System with its intent, to standardize the assessment of citizens' and businesses' economic and social reputation. It's a form of 'Social Credit' (https://en.wikipedia.org/wiki/Social_Credit_System). Yes, I have problems when AI gets used with the wrong intentions…. whether in business or by states.
I'm sure you know the quote: The knife can cut bread; it can perform a medical operation and it can kill.
Second, there is that nagging question: am I smart enough for AI?
I worry that this is a key inhibitor for AI implementation in many companies today, especially in small to medium-sized ones.
Have you watched videos and online courses on AI like me? Pictures illustrating the logic of machine learning and neural networks are somewhat understandable, but then….
So, what can be done? You know that well-used AI will be a key to economic success, but how can you make the first step? The first step is so important in this emotional AI roller coaster.
The AI Design Sprint*
At this point, an AI Design Sprint* is a valuable tool. For starters, the sprint puts the tech aside and uses agile, fast innovation methods to create first draft prototypes quickly and inexpensively. These prototypes can then be viewed, assessed and improved by all stakeholders involved. This is learning-by-doing, and the AI world opens up one step at a time, without buzzword bingo and without too much tech theory. You can do such a sprint in only 1.5 days.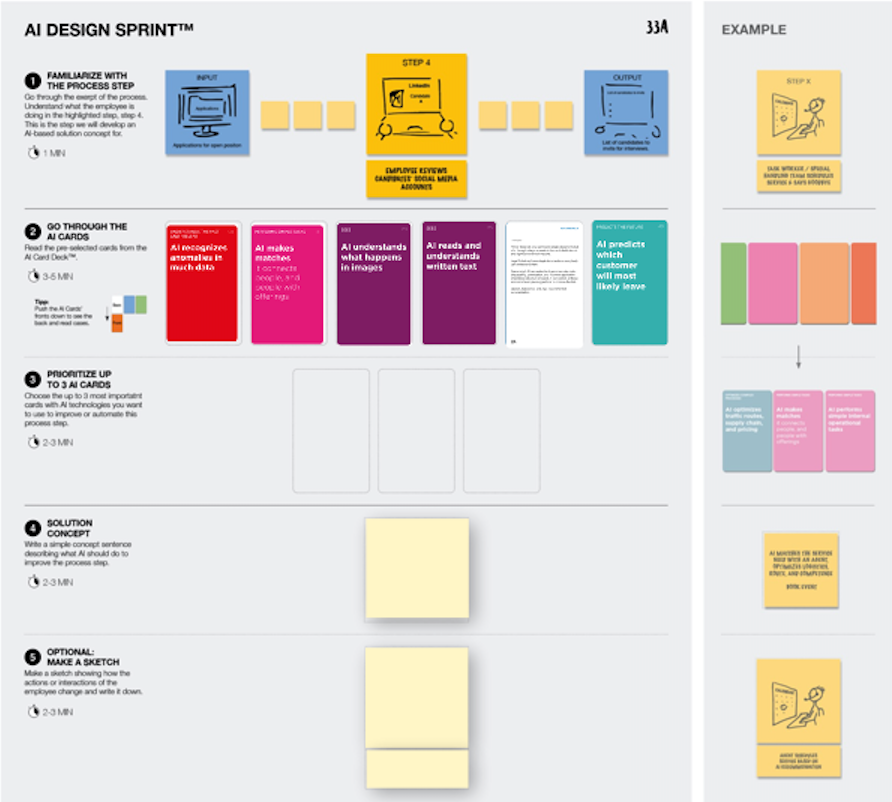 Here are the steps:
First and foremost, you develop a good process, service or product that creates real added value for users. You do this "lean + agile" with employees who know the overall process today and the customers well. You do NOT need any AI and tech know-how at this point in time.
Now it's time for the AI Design Sprint*: We differentiate AI according to its capabilities. You merge them as fitting functionality (not as technology!) into the new process, service or product. Usually there are many ways to use AI. In the end, we have to prioritize what functionality is important and 1-3 AI functionalities remain. Again, all this can be done without AI knowledge.
In a next step, we discuss data origin and ethics. With this, priorities may shift again. In the end, as with every digitalization and as with every innovation, the added value counts.
Now it is time for an AI expert to look at the new process and evaluate it. Data sources must be examined in detail. Usually, modifications are necessary. After the previous steps, this modification happens based on meaningful technology consideration and not because someone wants to play with AI.
The now following implementation can take place in various steps or in one go. Now it's time for AI experts and programmers. They have a clear goal to work to work towards and the experts of the process can monitor the results accordingly.
The result for all parties
The results are processes, services and products that fit the company and their customers.
At the end of an AI design sprint, there is a concept for a process, service or product with a clear added value for those people involved, be it customers or internal and external partners.
The experts in the subject get to work, not the nerds. Without deep tech and without a lot of theory, AI gets implemented in a descriptive form.
Management and employees get up and say: "We have done our first AI project".
The last point is perhaps the most important one. After an AI Design Sprint, AI as a tech solution is an option in your company and AI will be considered when it fits the needs. From now on, some people in the company know, how to get started, because you did it before.
Would you like to learn more about the AI Design Sprint? Contact me by mail or on LinkedIn! You find both links at the end of this page.
Thanks for joining me here!
Ute
* the KI Design Sprint has been developed by the Danish company 33A with AI designer Mike Brandt and service designer Jonas Wenke, who developed the AI Design Sprint (c). All pictures are copyright of 33A.
You'd like to get more impulses in English language? They come a bit less frequently than in German language, but they come. 😉
[activecampaign form=10]
You'd like to get this in German language? Hier geht es zur deutschen Registrierung:
[activecampaign form=8]