5 Trends to make your Innovation a Success – Part 2
In the last blog post "When the Golden Globe Awards 2020 serve a full vegan meal,…" we looked at eco shame as a trend. It was about understanding that innovations will be successful if your next innovation helps people avoid this environmental shame.
This post is about Artificial Humans, a trend in interactions with products, services and brands, because they are taking on a powerful new "human" form:
Interface and Brand Avatars
In computing, an avatar is an object that represents an identity on screen. Avatars began their digital life as various characters in online games and van now be found in social networks, in user interfaces of services and in online shops. They guide us in eLearning, and work with us in business apps. These avatars usually help us get something done.
Why are avatars on the rise?
Avatars create connections. A connection between a user and a product or service or a connection between users.
They will become an important element of the user interface in 2020 and beyond to significantly improve our connection and experience in the digital world.
Beyond the user experience of connection, avatars simplify the process of interaction and communication,
Visual avatars create less visual clutter on the screen when there is an image instead of text. Plus, you save space on the screen.
They improve understanding because users can focus on image or speech instead of text.
Visual and voice avatars offer a "human touch" that makes life a little friendlier and funnier.
I love my Alexa: She (yes, it's a she) listens to me, "looks at me" when the light signals turn in my direction and she usually does what I ask her to do. What a difference to my children, my husband or my colleagues at work.
"Genie in the bottle" – the virtual companion
Put Alexa in 3D and you have a virtual companion. While our planet gets more and more stuffed with people, there is the phenomena that single people become more and more lonely.
A clearly recognizable trend, especially in Japan, where avatars become digital companions and supporters in fighting social loneliness.
One such digital friend comes from the Japanese company Gatebox.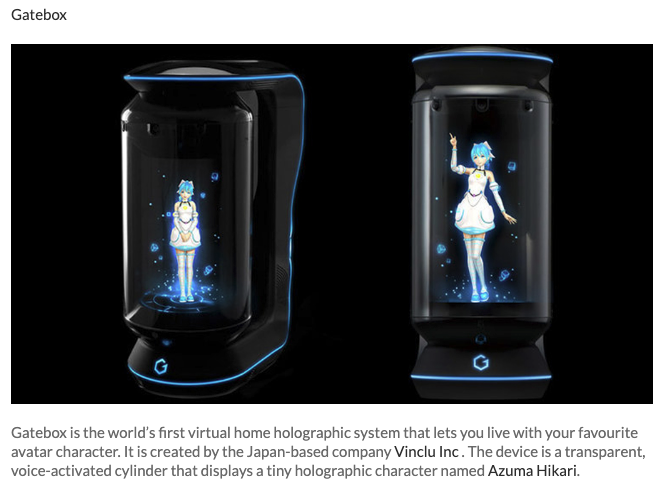 A charming female or male holographic figure in a "science fiction bottle" that thanks to A.I. interacts cleverly and animatedly.
A small "genie in the bottle" that communicates via voice, facial expressions, body movements and actions. And when the "master" is not at home, he or she sends chat messages.
Another example is Hatsune Miku, which was originally developed to help professional musicians in Japan. You can now have a date with her – you just need to bring your VR glasses.
In the western hemisphere, Facebook is experimenting with "Virtually Dating". Where two people have a blind date that takes place entirely in a virtual reality world.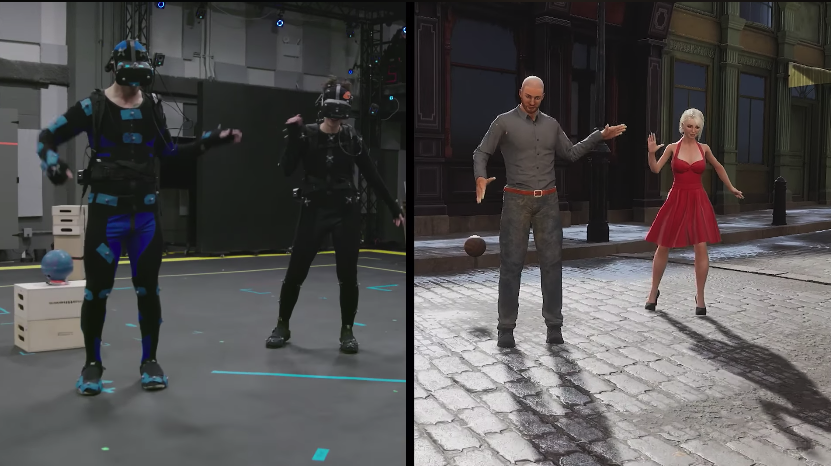 China's state-owned news channel "New China" is another example. They use two virtual news anchors who deliver a personalized news program at any time. YouPorn's star Jedy Vales is a virtual character and you might want to check out the virtual Instagram star Lil Miquela, who was recently part of a Calvin Klein TV commercial in which the avatar appeared in interaction with supermodel Bela Hadid. Almost old-fashioned, the brand avatar of Fast Food Chain Wendy. In Fortnight, the super heroine is fighting with her followers against frozen burger beef. A a personalization of the brand image that Wendy wants.
The last two examples indicate that we will see more brand avatars in the future. A brand character that perfectly personifies the core of a brand and with which we can interact.
In Sum
In summary, what can we expect from Avatar user interfaces and companions?
As consumers, we expect brands to be useful to us in the digital channels we live in.
That they close knowledge gaps, offer useful information and offer some fun and humanity through the interaction. Research suggests that it is not about "friendship".
At least for most of us, it's not about friendship. Let us wait and see whether a social trend of "loneliness" sets in and avatars become friends and companions that we no longer want to do without.
Until then, have fun building innovations that succeed!
Ute